Computer viruses are still the top concern
For the first time in more than 10 years, Bkav conducts detailed statistics through the program "Cybersecurity assessment for individual users".
According to the report, on a global scale, cybercrime causes more than $1 trillion in damage annually, equivalent to 1.18% of global GDP. In Vietnam, the damage caused by computer viruses to users stands at 21.2 trillion (equivalent to 883 million USD).
However, according to Bkav, this damage level is low compared to the world. Along with that, Vietnam has also just increased 25 places in the GCI cybersecurity index.
This shows that the efforts of the Government and the domestic cybersecurity community have really brought encouraging results in recent years.
However, the 2022 cybersecurity landscape in Vietnam still has hot spots of concern. That is account-stealing malware that can "penetrate" the 2-layer security mechanism; the number of computers infected with APT malware is high; ransomware redirects attack to the server; Online financial scams explode...
Many worrisome hot spots
The year 2022 witnessed an explosion of especially dangerous malicious code, mainly attacking document files and bypassing security systems that were once thought to be safe. In particular, the PasswordStealer malware emerged as one of the major threats when it was able to penetrate the 2-layer security mechanism.
According to Bkav's statistics, this malicious code has infected more than 525,000 computers in Vietnam in the past year, with more than 15,000 variants, stealing and hijacking Facebook, Gmail, bank accounts, and e-wallets. .. of the victim.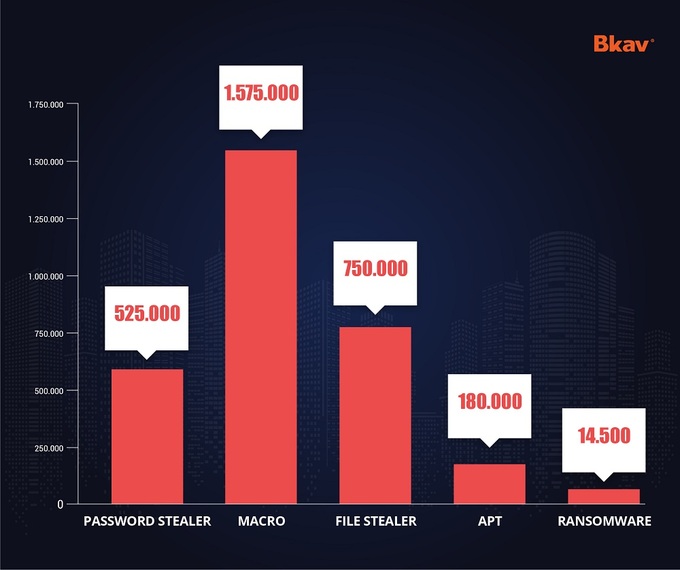 Macro and FileStealer malware are also two extremely dangerous types, when infecting millions of computer devices, thereby collecting information, installing other malicious codes and especially finding and spreading to other computers. other document files for further distribution.
The common feature of the two types of malicious code mentioned above is taking advantage of the popularity of text files (.doc, docx, xls, xlsx, pdf files) and the perception that these files are less dangerous. From there, users easily mistake malicious code for document files and open them.
Along with emerging malware types, APT malware and ransomware are still a constant threat. According to Bkav, up to 180,000 computers in Vietnamese agencies and organizations were infected with APT malware in the past year. It is worth mentioning that the main distribution route is still through sending emails with content that entices or urges to open attachments.
Through this way, the APT malicious code activates as soon as the user opens the file, thereby silently operating on the victim's computer. They can install other component modules to remotely control, steal data, attack deeper into the systems of agencies and organizations...
Ransomware tends to move to the form of a large-scale campaign, targeting servers containing accounting data. According to the report, 1,355 servers containing accounting data in Vietnam were subjected to ransomware attacks in 2022, the number of attacks recorded was 14,500.
What should the user do?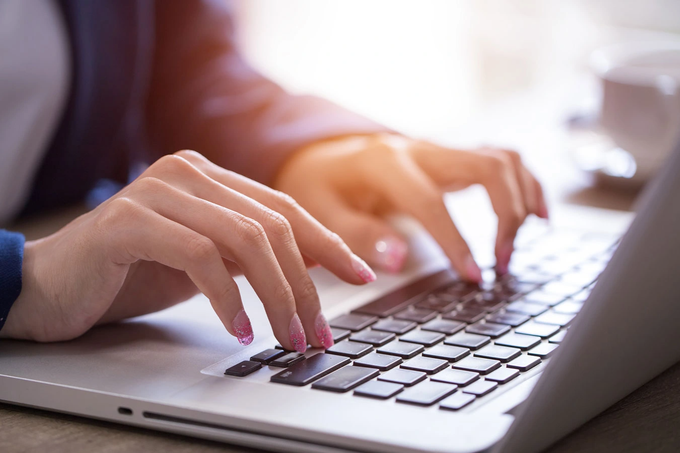 Experts predict that APT attacks for espionage purposes will increase in 2023. Besides, scams in the form of texting and calling will continue to be popular when hackers can make money easily. with deals up to billions of dong.
Bkav recommends users to perform a very important operation, which is to install anti-virus software with the feature of preventing malicious code for automatic protection.
In addition, it is important to regularly back up important data and store it to another place such as USB/External Hard Drive, another computer, Cloud Storage (Google Drive, One Drive, iCloud...).
One thing is for sure, hackers will have more and more sophisticated tricks to attack remote Internet users. Therefore, we also need to continuously improve our cybersecurity knowledge, as well as awareness in protecting ourselves against future attacks.
Source: https://dantri.com.vn/suc-manh-so/bkav-nguoi-viet-thiet-hai-212-nghin-ty-do-virus-may-tinh-20221217080301991.htm